Greetings from eHaus
February has been a very eventful month for us at eHaus.  Not only have we experienced a dramatic rise in public interest but we have also been busy settling into our new offices, as well as attending the South Pacific Conference in Australia recently.  Jon presented a paper at this conference exploring how much more it cost to build an eHaus? - between 6-15% and if it was a good investment or in other words when would the extra investment pay for itself - between 8 - 17 years. Of course the main reason we are so passionate in this new way of building is the comfort it provides whilst minimising the impact on the environment. But also very good to know that it is also a sound investment. It was well received and a good topic for discussion afterwards.  Investing a little more upfront for your home to maximise financial gains long term is the sensible option as well as contributing to the care of the environment. Home affordability is not just about mortgage payments, but also running costs for the life of the building.  Kiwis are catching on to this concept fast judging by the interest that is forming and the growth in the number of projects happening nationally. Interestingly, the world's first passive house is now 25 yrs old and is still performing to expectations with the same families still living there!
What does the term 'passive house' mean?
The term passive house (Passivhaus in German) refers to a rigorous, voluntary standard for energy efficiency in a building, reducing its ecological footprint. It results in ultra-low energy buildings that require little energy for space heating or cooling.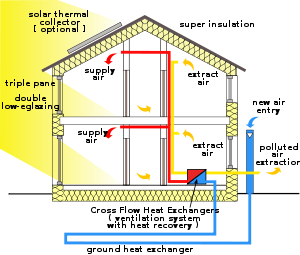 We look forward to continuing our eHaus design & build service to the New Zealand public based on these principles.  We know our eHaus clients have enjoyed the cooler, even temperature in their homes during this hot weather season.  Whether you want an eHaus Euro or an eHaus standard, we can deliver your dream for you.  Give us a call at the office 063477220 or 0800EHAUS to speak to Baden or Jon about your project.
Enjoy the last of the summer days!
Best wishes
The eHaus team.