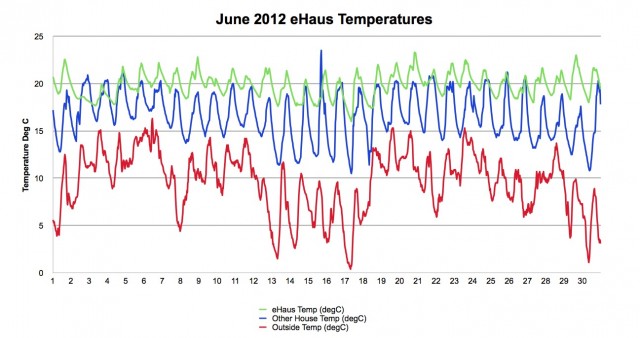 Here are the actual daily temperatures recorded in the eHaus, outside and next door (a typical 3 year old brick clad house). These temperatures were recorded every 30mins and then loaded into a CSV file to generate the graphs. The heating used in the eHaus is a Pellet fire which has consumed 55kg of pellets in June. Translated into dollar figures the total heating cost for the eHaus in June was $30.25 when buying the pellets in bulk or $48.55 when purchased by the bag. The pellet fire consumes about 1.4kg per hour so the unit has run for about 40 hrs total for the month.
This second graph shows the average daily temperatures recorded in June. The eHaus is generally 4 degrees warmer than the other  house.
The figures are one thing but actually living in the house is something else. One of the biggest difference to a normal house is the temperate swing is so much less, getting up in the morning is a lot easier when it is 18 degrees not 12 degrees!
One thing to remember is this house is the first eHaus built and not good enough to reach the PassivHaus standards as it has insufficient insulation under the concrete pad. What that means is it leaks thermal energy more than it should. We currently have 3 more builds on the go that are to the PassivHaus standard so watch this space.