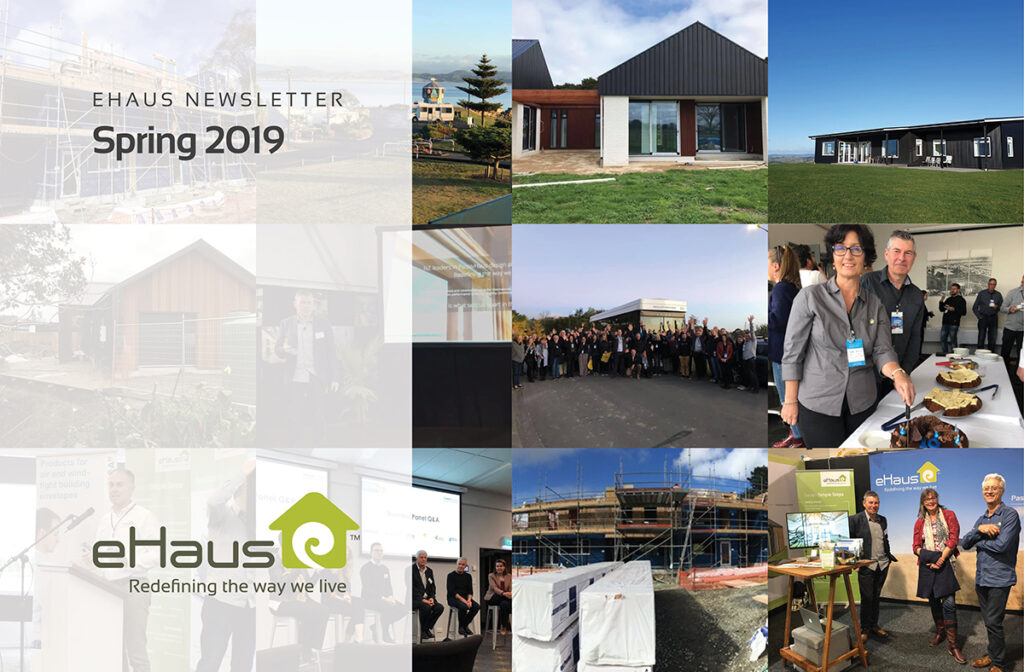 Morena and welcome to our eHaus Spring Newsletter
Ah Spring, we love your longer day light hours, and your fresh spring air - and what a fresh few weeks we have already had here at eHaus as we have been challenged with new ideas and new projects!
In this edition, we look at the international campaign for World Green Building Week. After the recent commitment from NZ to the Paris Agreement, we share how eHaus is contributing to this. We all want to leave our beautiful country better than how we found it, so this requires a definite shift in our thinking in our approach to all aspects of life. We are committed to re-evaluating everything we do as a Company. This newsletter is flavoured with this theme as we go into this week. Happy World Green Building Week!
---
IN THIS EDITION
01. World Green Building Week – building life
02. New Zealand's first hay bale Passive House
03. 'What a load of old rubbish'
04. ANZ supports healthy homes
05. House and land opportunities around the country
06. eHaus presents to government about the NZ Zero Carbon bill
07. Dunedin Co-Housing Project
08. We continue to grow
09. Ventilation for spring allergies
---
01. World Green Building Week
The 23rd of September marks the start of World Green Building Week, with this year's theme #buildinglife. So, what is this week all about? "World Green Building Week is an annual campaign that motivates and empowers us all to deliver greener buildings". This year's focus is to raise awareness of carbon emissions from all stages of the buildings life-cycle and encourage new practises and new ways of thinking to reduce carbon emissions from buildings.
There are planned events happening all over the globe, which we think is very cool. As our contribution, eHaus Hawkes Bay are having an Information Evening in our brand new expoHaus, built to the PassivHaus classic standard, and this will be the first event to be held there!
If you are keen to hear all about building the PassivHaus way – register with sharonw@eHaus.co.nz
You can also join in the conversation using the hashtags #buildinglife and #WGBW2019. You can even make pledges like "This World Green Building Week, I'm building a better future by pledging to cut my energy use by 20% over a year."
---
02. NZ's first PassivHaus straw house
What a great story from Jessica and Ben Eyers of Hiberna, who are building New Zealand's first certified PassivHaus straw house.
"We feel it is like the crux of everything, the holy grail of sustainable building. There are no others in New Zealand and only a handful of straw bale Passive Houses in the world", Jessica says.
---
03. What a load of old rubbish
We couldn't believe it when we read, recently, that construction and demolition waste represents up to 50% of all waste to landfills in New Zealand! In one year, that would see NZ's construction and demolition responsible for 1.7 million tonnes of waste being put into our precious soil. As a company, everything we do has always been built upon the belief that our environment is our priviledge, and protecting it our responsibility. Thus, 'GreenHaus' was born. GreenHaus is a working group made up of our regional eHaus builders and admin teams, looking at ways we can reduce our waste. We are committed to reducing our onsite and office rubbish by 20% over the next 12 months which is quite a target, but we are well on our way.
Of course, the most obvious place to start is to not generate any rubbish at all, so we seek to partner with vendors who, like us, have the same drive for whole, sustainable practices. VYNCO for example, who is an in-house team of engineers, have researched and developed a unique eco-packaging solution to help reduce waste using moulded fibre packaging – no cardboard inserts and paperless instructions. Along with this, their Urban Switchgear range products are wrapped in a unique tea bag style wood pulp tissue instead of a plastic bag. Great work VYNCO, big tick from eHaus.
Our team have been busy collating information across the country, sorting onsite rubbish, making changes and finding solutions to avoid rubbish from an eHaus build going into landfill.
Some of the exciting ways our teams in Taranaki, Wairarapa, Manawatu, Hawkes Bay and Whanganui District we are making changes:
Timber offcuts available to Menzshed – community workshops for men together and build projects.
Changing the size of our 9m2 skip bins to 4m2 bins with lids – protected from the wind and with reduced rubbish we don't need such large skips.
Drywall offcuts – Taken by a local worm farm in Taranaki. We think this is very cool!
Sorting wheelie bins – Plastic, glass and cardboard/paper now sorted for collection and recycling.
Do you have any creative ideas about recycling? We would love to hear them!
---
04. ANZ Healthy Homes
If you are looking for finance, the ANZ Health Home loan package is what you need. They are raising the bar on the building standards and an eHaus, built to the PassivHaus standard, certainly ticks the boxes. You can apply online, or if you have any questions feel free to call the eHaus Central Office to chat about this.
---
05. House and land opportunities around the country
We are proud to showcase three new subdivisions that eHaus are involved with:
01. Regaru – near Matakana, this subdivision has six amazing lifestyle blocks on land that has been organically restored – check out their website for more information rengarusolarvillage.co.nz
02. Auranga – based in Karaka. Drury Auckland is putting the heart back into modern communities. Auranga is a place that is safe for kids to explore freely, where there's room to move, time to enjoy life and chances to meet new friends. Our new eHaus Auckland expoHaus is to be built in Auranga and this new community will eventually have 35,000 new homes. eHaus Auckland/Brant Homes is one of six building companies that has been hand selected to be part of this development. To check out more information, visit auranga.co.nz
03. Coming soon to Whanganui – a beautiful new community, with 45 sections. Watch this space for more information or email to Simon Penn, Director of eHaus Whanganui District simonp@ehaus.co.nz
---
06. eHaus presents to the Government
Two of our team, Glenda Brown and Shelley Cresswell, recently presented to the Government Zero Caron sub-committee in Palmerston North, after submitting a paper on the topics they were allocated 10 mins to present.
What a fantastic opportunity to be able to present the PassivHaus principles as an immediate solution to a reduction in our carbon emissions.
The paper supported the New Zealand Green building council's paper for a building commissioner to be appointed as part of the team that will drive through this bill. Our industry is a specialised field, and requires someone who understands the current standards and can be part of the considerations in bringing about change. Nothing like taking your story right to the top! We are so looking forward to seeing what happens in this space.
---
07. Dunedin Co-Housing Project
This first PassivHaus co-housing project continues to rise up out of the ground each week, and we love watching the new developments to the site. Our eHaus Otago team are doing an amazing job!
---
08. We continue to grow
Now across 19 regions, we welcome Micky and Tash Dean to the team representing eHaus Marlborough. Micky and Tash are relocating to Nelson, from Bulls, and can't wait to redefine the way we construct with eHaus in this region!
---
09. Have Spring allergies got you sneezing?
We know that not everyone welcomes in spring with open arms, especially those who suffer from allergies. September is the Asthma and Respiratory Foundation New Zealand Breathe Better campaign. Over the month, the foundation raises awareness for over 700,000 kiwis who live with asthma or other respiratory illness. and gather some vital funds to support them.
The Everyday Hero Better Breathing Challenge is created to encourage people to get out, get active, and improve their respiratory health. This could be as simple as walking around the block once a day, practicing some daily yoga, or running a marathon; whatever pushes you to raise awareness and improve your own health. We think this initiative is awesome, and get behind anything that offers relief to our allergy sufferers.
A huge benefit of living in a PassivHaus is the healthy, clean environment. Thanks to the smart mechanical heat recovery systems that work in our homes, 98% of pollutants and allergens are removed from the air. This not only creates fresh filtered air but a completely dust free safe environment, so you can save on the tissues during hay fever season! Even if you don't have a PassivHaus, installing a ventilation system in your home will improve your air quality and stop those allergies at the door.
Talk to us about installing a ventilation system in your home today info@ehaus.co.nz