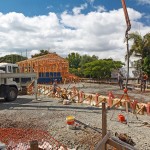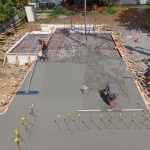 2012 has started with a hiss and roar for us at eHaus with 3 projects at the Passive House Planning Package (PHPP) stage. Along with the first Certified Passive House that, as you can see from these photographs, is really taking shape.
If you are in the building industry watch out for an article featuring this first PassiveHaus in the Feb/March edition of  Progressive Building Magazine. The editor Stephen Dickens was keen to capture the details so it will be a good read.
We will be running another One Day eHaus Workshop in New Plymouth on the 24th March and have plenty of room for you if you are thinking of building but want to find out more. Have a look here for the topics we will be covering on the day.
This is some of the feedback we have had from previous workshops:
"The material was interesting and relevant"
"Presentation material was good, and the openness to share useful information was really appreciated"
"I came away with a much better understanding of the direction I will take in my next house design. My questions were answered and the politeness and hospitality that you provided was brilliant"
Do you want to receive regular updates and the latest happening's in the PassiveHaus world?
Yes? then add your email in the box on the right under enquire now.