So now we have an unbroken insulation layer with no thermal bridging from the foundation to the walls.  The next detail that will enable the eHaus to keep an even temperature year round is the Air Tight Layer. Every join in the house must be sealed, we are using products that have been designed specifically to achieve this developed by Proclima. The target for this house is to achieve an air tightness of less than 1 air change per hour of the total treated area of the house at a pressure of 50 pa. Most houses leak at the rate of 10-20 air changes per hour.
The reason for this is airtightness minimizes the amount of warm - or cool- air that can pass through the structure, enabling the  ventilation system to recover the heat before discharging the air externally.
This does not mean that you can't open the windows!! Not at all, we have designed a beautiful indoor out door flow for use when the weather permits. But for the rest of the time you are able to shut out the cold or indeed heat when it is not wanted.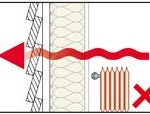 If air moves freely within and around the insulation material there is little or no insulating effect.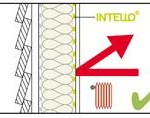 The air must remain still within the insulation material
to have maximum insulating effect.