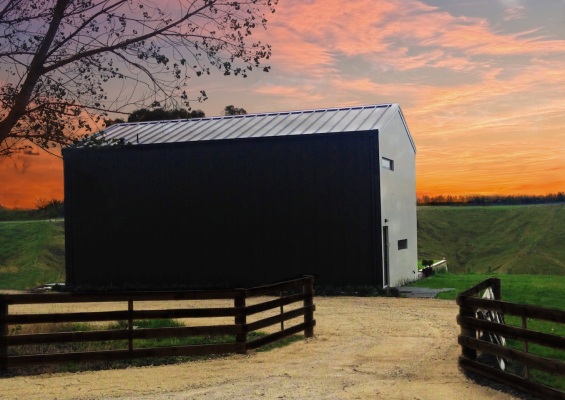 Things have been busy at the head office of eHaus. As the brand grows market share around the country building companies are being trained and equipped to deliver the most energy efficient and comfortable houses available in New Zealand.
One of these homes has just been completed in rural Wanganui, demonstrating the supreme comfort through use of intelligent but simple design.  This show home has, again, been constructed in conjunction with Carters and the local eHaus building team who is now headed up by Simon & Stacey Penn.
The house has been labeled by the locals "the black box" as from the road it could be mistaken as a flash farm shed. However stepping through the door immediately confirms that this is no ordinary country home.
eHaus believes in challenging traditional building and design by ensuring extreme efficiency and unparalleled comfort all year round. No matter what is going on outside this home immediately has the feeling of warmth, comfort, and quietness –  elements that the eHaus homes are quickly becoming known for.
This particular eHaus achieves a net zero energy status, which means it produces as much energy as it uses in a 12 month period.  Take the opportunity to view the house and you will be amazed by the low costs it takes to maintain a comfortable environment. For the first month the power used cost only $1.96 for a family of 5! The owners expect similar power bills for the entire year.
This eHaus Zero is open to the general public for the first time on Saturday March 28th from 10.00am – 4.00pm.  On Sunday 29th March we will be offering exclusive tours to potential new home owners - if this you please email info@ehaus.co.nz to reserve a place. The address is 590 Brunswick Road, Wanganui.