Your chance to secure the first Certified Classic Passive House offered for sale in the Waikato is now here. The eHaus Waikato expoHaus is now offered to the market after serving as the showhome and office of eHaus Waikato for the last 18 months.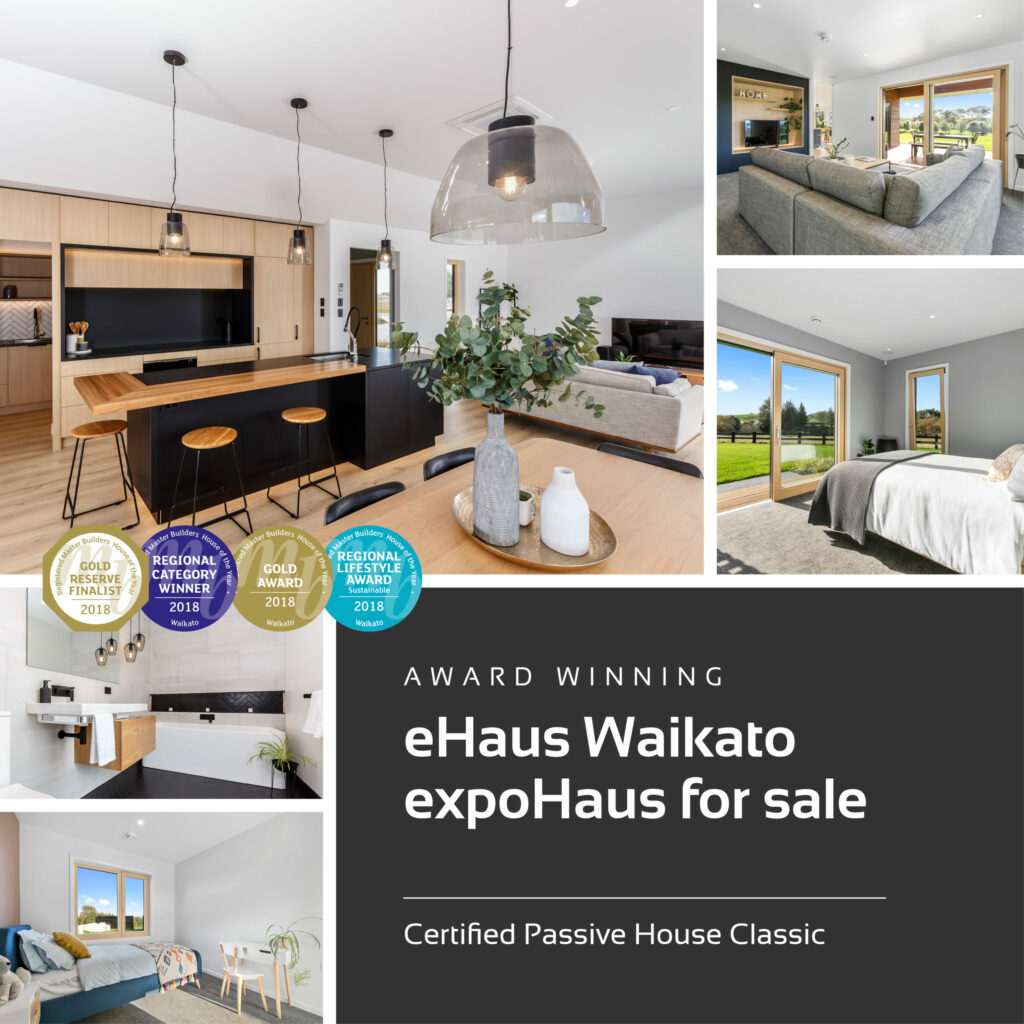 Location
Located on a 6300m2 beautiful rural lifestyle block, north Hamilton, near Gordonton at 45 Komak Road, Taupiri.
Property Information
Floor area: 252M (House 212m, Garage 40m)
Land Area: 6281m
Year Built: 2017
Property Condition: New
Bedrooms: 4
Bathrooms: 2
Waikato District Council Rates: $2,682 per annum
Waikato Regional Council Rates: $565 per annum

With four bedrooms, and two bathrooms this family home also enjoys two living areas which spill onto a spacious alfresco deck for dining with friends or simply enjoying the scenery. Cloaked in black brick and cedar, the contemporary exterior ties in well with the sleek scandi interior. Timber and black details carry through to the designer kitchen and scullery where the resident foodie has everything they need at their fingertips. The bespoke bathrooms also uphold the dress code to perfection, with extensive feature tiling and ambient feature lighting creating a relaxing spa-like experience. Further information on the property is available to download here.
Energy Efficiency Design & Performance
Despite a generous 252m2 footprint, this home treads lightly on the environment. High-performance German-engineered window and door joinery are throughout, a solar photovoltaic system, ventilation system with heat exchanger, heat pump domestic hot water system, and super insulated airtight construction, make this beautifully designed house an energy efficient superstar. The Passive House design of this home has reduced the need for auxiliary heating and cooling to a very small AC unit. This gives the home energy savings of around 90% when compared to a standard code built home.
Passive House Design Means A Healthy, Warm Home
With constant warm temperatures and low humidity, there is no chance of condensation or mould growth in this home. This eHaus Euro has the healthiest of living environments, with 98% of dust, pollen and pollutants removed by the Zehnder heat recovery ventilation system silently providing fresh air into the home 24/7.
Contact
If you would like to view the property or find out more information please contact Ross or Julie from eHaus Waikato on:
Ross on 021 645 204 or email rossbrown@ehaus.co.nz
Julie 021 409 005 or email juliebrown@ehaus.co.nz

Additional Information
Download Brochure on the Award Winning eHaus Waikato expoHaus, Waikato.