Here we are in the middle of winter when we are mindful of temperatures, heating costs and warm clothing.  But not those who enjoy living in their eHaus, unaffected by the change of a season, their homes staying at a constant temperature no matter what's happening outside.  The good news is, we are on the right side of winter with the shortest day been and gone.
Here at eHaus we are experiencing growth like never before. Our teams of specialised licenced builders from Northland to Invercargill, are busy constructing and managing eHaus builds for those Kiwis to realise the benefits these incredible homes bring and with the future in mind. Talking of the future….
New eHaus subdivision
Here in Whanganui there are plans underway for a new eHaus only subdivision. This is a very exciting development for us as land for 20 homes, all built using PassivHaus principles are worked through. We will provide you with more updates and what this will look like as things progress. This kind of concept enables us to have input into what the future looks like - redefining the way we live. Considerations like electric car charging stations,smart charge initiatives and active assisted living, all add to what an eHaus build offers which in turn helps establish new communities and sustainable ways to benefit our environment.   Artists impression of Stonebrook Estate below:
Commitment to climate change
It has been interesting to hook into the international news and see that only last week, France has made a goal to be petrol and diesel vehicle free by 2040 and carbon free by 2050.  How we would love to see NZ commit to such goals, being a country that is mindful of lowering our greenhouse gasses.  NZ emissions are lower compared to other countries and we have committed to being part of the global response towards climate change, but further commitments will be necessary to herald a change like France is making.  Here at eHaus we are also committed to lowering greenhouse gasses, this is why we are so passionate about Passive Housing and the role it plays in the community and for our country. Building an eHaus not only has significant benefits for your own health and wellbeing but the environment too. It's a great feeling to know that one build at a time we are making a difference, and contributing positively to this global issue right here in NZ.
Homeshows and Information evenings
It's a busy time for our teams with regional Homeshows and Information evenings across the country. The stands are bustling with people as the interest in eHaus grows at incredible pace. The Information evenings held after each Homeshow, are a great way to learn more about the process and the technical side of the PassivHaus principles, as well as being able to talk directly to our team of experts and qualified builders. If you or someone you know is interested in attending an eHaus Information evening, call us on 0800 434 287 to find when the next one is in your area. Or visit us at your local Homeshow to find out more.  Here is a photo of  a full house at the recent eHaus information in Kapiti.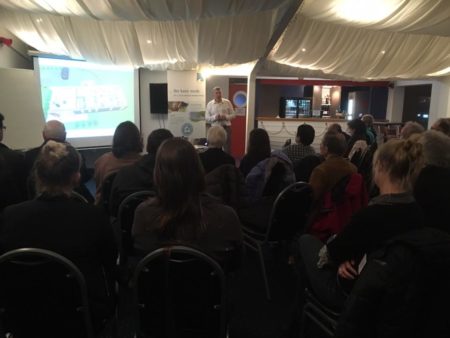 Experience an eHaus ShowHome
Go along and experience the consistently warm environment an eHaus gives. The team are there to help answer any questions and talk you through the home and the unique features that makes it an eHaus. The Waikato eHaus ShowHome construction is also well under way, and in the planning stages are the eHaus Show Homes in Hawkes Bay and Canterbury.  It certainly is exciting times for eHaus!
Are you considering an eHaus build?  Check out our website for more information www.ehaus.co.nz. Or call us on 0800ehaus, we welcome the chance to talk to you about building Passive. Remember at eHaus we only design & build the PassivHaus way – we are NZ leaders with a nationwide team of experts.
Until next time, keep warm.
Best wishes
The eHaus team