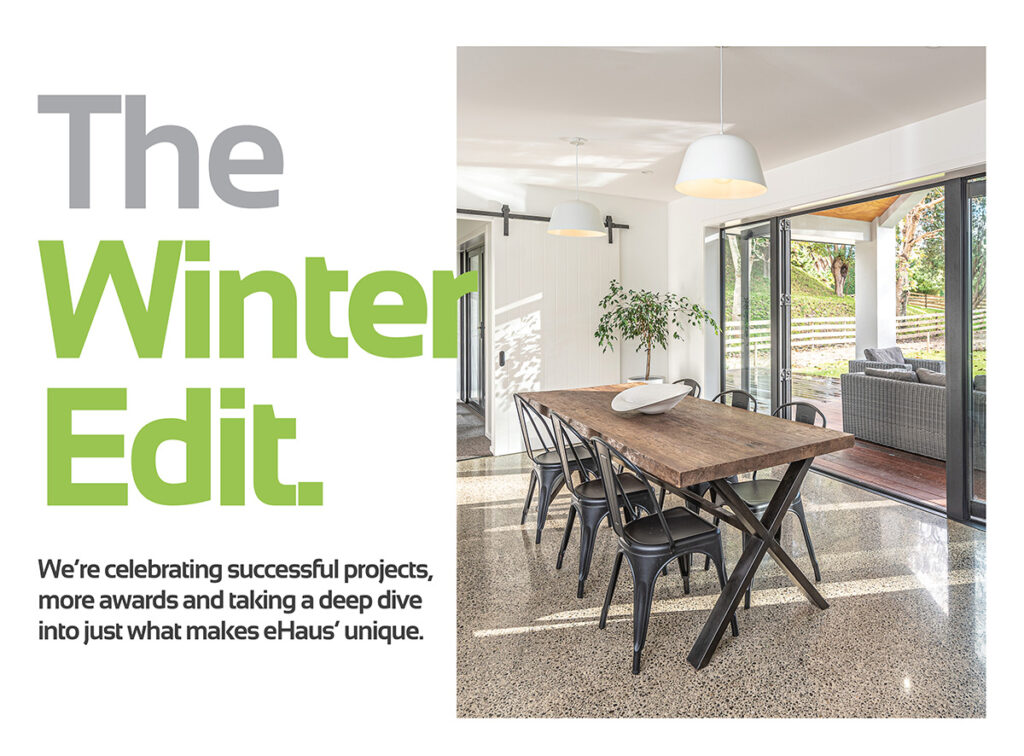 The bite of Winter is finally here, but for those who live in and love their eHaus, there is no obvious change in season. The same consistent even temperature means the usual challenges of keeping warm are no longer top of mind. We wish everyone had an eHaus and was able to enjoy Winter for its beauty, rather an its bite.
IN THIS EDITION
01. Super star home making headlines
02. We won! Sustainability Award
03. PHPP Explained
04. Predicted Heat Energy Savings – eHaus' are saving an average of 86%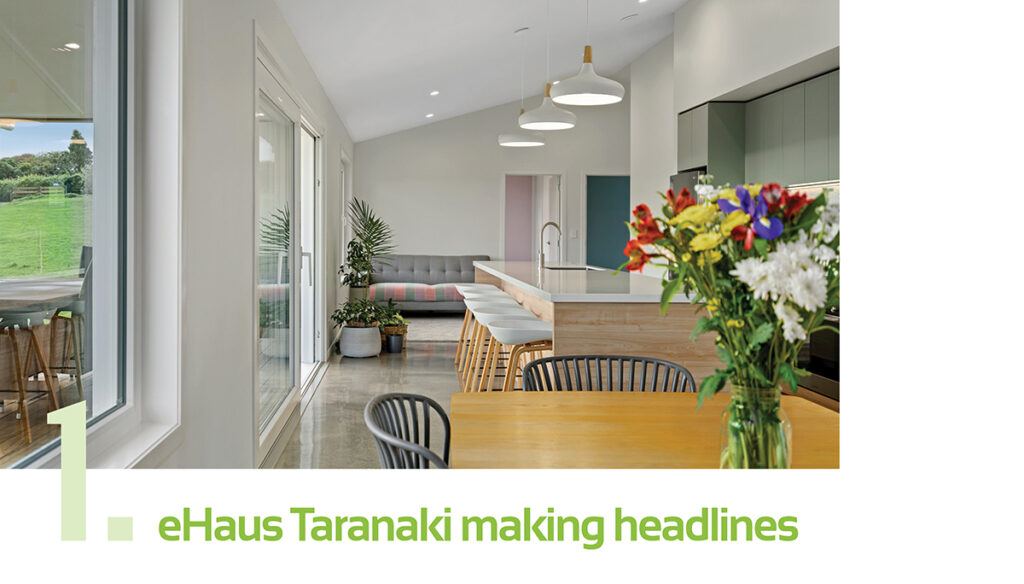 Our fantastic clients Andrew and Lucinda Searle and their award winning eHaus was featured in Stuff recently, by journalist Colleen Hawkes. It's so exciting for any business when mainstream media picks up your story and writes about it, so naturally we were stoked.
This home is a super star in so many ways. A Certified Passive House Classic, 2021 Masterbuilder Top 100, Gold and Regional Category award winner. The story of a progressive, forward-thinking young family of five who wanted more from their new build.
"We were keen on building a better-quality house, rather than a bigger house," Andrew Searle says. "I think a lot of people can fall into the trap of 'how big is your home', but actually, asking how your house performs is a better question."
It's something we observe at eHaus, with others building to code, where the question of performance isn't part of the conversation. We believe it really matters, so much so, that we energy model every one of our homes.
The Searles joke that they haven't set their children up well if they want to go to Otago and live in university flats when they are older, because their house is just so comfortable to live in.
Hofmans Builders won a Registered Master Builders House of the Year Award last year for the project. The house was the Taranaki Regional Category winner in the $600,000 to $750,000 category, and a gold winner.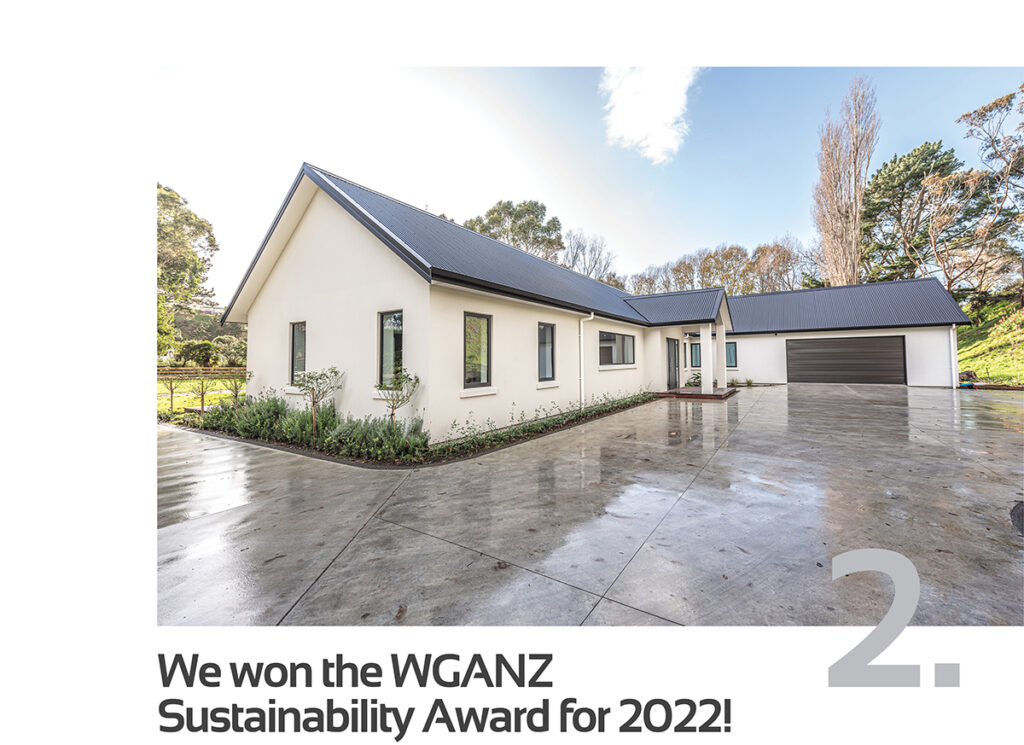 This is the first time we have entered the WGANZ awards, in partnership with Wight Aluminium, and our beautiful Watson family home took out first place for the Sustainability Award.
Simon Penn, our eHaus Whanganui District licensee, and his team worked closely with Wight Aluminium through manufacturing, construction, and installation stages to achieve the airtightness objectives for this home.
Joinery and glazing are traditionally where huge amounts of heat loss occur. The window and door products for this home were purposefully chosen to reduce these losses. This included the selection of French doors that provide better airtightness over other sliding door available.
And the judges were impressed too saying...
"... It was designed and built-in accordance with Passive House principles and these, naturally enough, have given it a very high degree of thermal and acoustic performance. The health benefits of Passive House are well known, and this house delivers them too. In many ways this project represents many of the features that should necessarily become commonplace in residential construction in Aotearoa New Zealand in the future. The technologies to improve thermal performance and save energy are now well known. This house is therefore an exemplar project and as such it deserves commendation"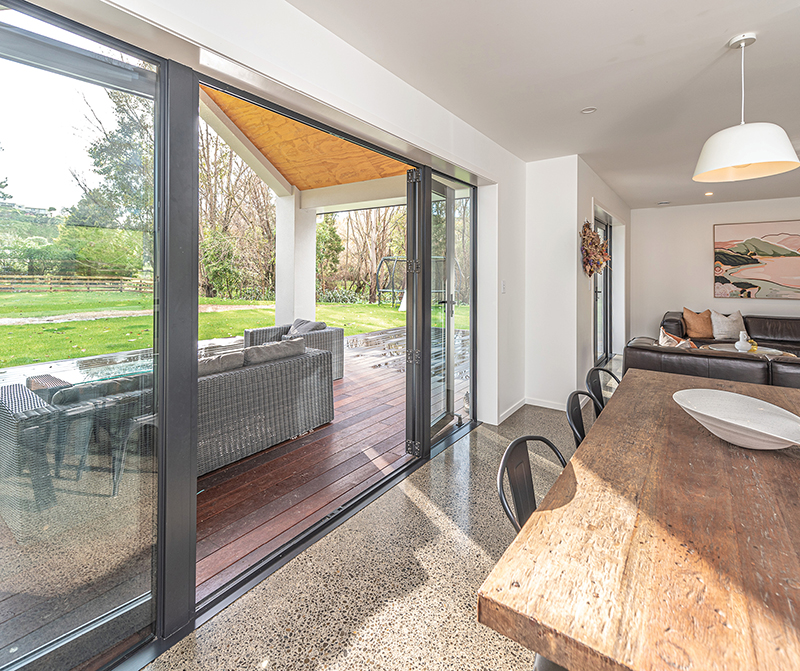 The collaboration with Wight Aluminium, along with the excellence in construction, paid off with the home achieving an air tightness rating of 0.53 ACHn50.
What is ACHn50? - This is a measure of how many Air Changes per Hour the entire volume of air within a house is exchanged at a pressure of 50 Pascals (50 Pascals are the international standard of measure for this type of testing). To give some perspective a typical new code-built home would rate 3 – 5 ACHn50 and a Typical Villa 25 – 30 ACHn50 The lower the number, the better the air tightness.
The home features thermally broken double glazed low-E Argon filled joinery throughout and high performing and larger-than-standard glass edge spacers.
Congratulations to Wight Aluminium and the eHaus Whanganui team – The first high performing home in New Zealand to achieve this Sustainability Award. So good!

We pride ourselves in energy modelling every eHaus using the Passive House Planning Package (PHPP). We know this sets us apart in the building industry, but some might ask – why bother, and how does it work?
If we compare buying a car with building a new home, there are a similar set of questions we might ask ourselves before we purchase, like: How much will it cost? How many kilometres per litre will I get? What are the safety features of this vehicle? How do I know the information about this vehicle is valid? The answer to these questions hugely influences whether we progress with the purchase or not. Yet when we build a new home, (probably the most significant financial expense in our lifetime) many don't stop to ask similar questions like: How much energy will this house cost to keep us comfortable? Will my family be safe and healthy living in this home? How do I know the information about my home's performance is valid?
The PHPP is a very smart piece of software developed by Dr Wolfgang Fiest & Darmstadt University in Germany. It energy models how your house is going to perform giving you the answers to your questions up front. It provides extremely accurate information giving you the confidence to proceed from the start, along with being able to make changes while still on the plans to ensure you get the performance standard you are after.
So, how does it work?
A specialist team work through the process early in the design phase to understand how the house will perform in its unique climate and surroundings.
This is done by creating a scale model of the home in the design PH software and setting this into the local 3D terrain by importing a snapshot from Google Earth. All of the local features that will have an impact on the performance, like trees and surrounding buildings, are then added.
Once this base model is created, a range of window and door configurations are tested to find the right balance between performance, functionality, daylighting and aesthetic.
This information is shared via a detailed report with the designer, builder and homeowner, giving the team the ability to make informed decisions and adjustments, and the confidence to look forward to a home that is warm, comfortable and energy efficient. It's pretty cool stuff.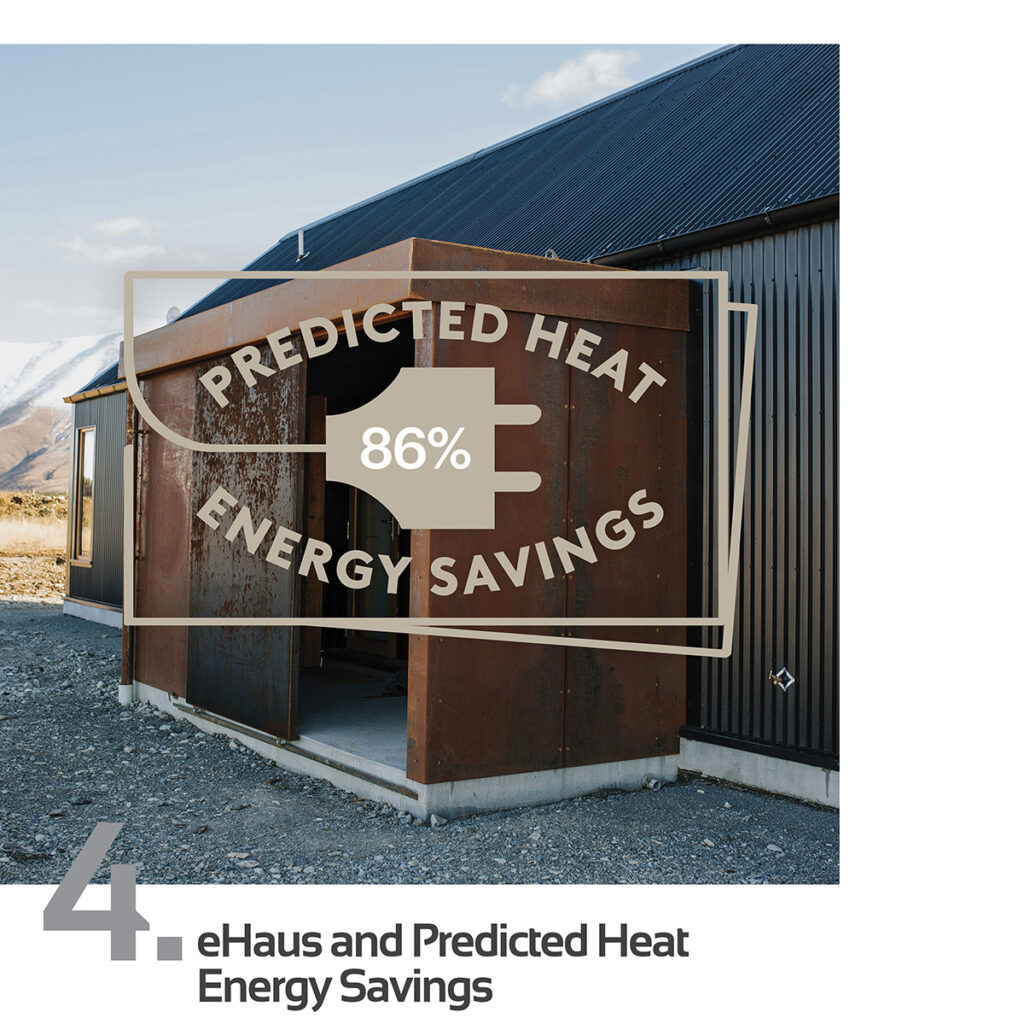 We got thinking, and realised that it would be great to clearly demonstrate the predicated heat savings the PHPP report generates for each of our homes. So we have developed a badge which shows the percentage of heat energy savings for each of our projects on the website. Through this exercise we were easily able to calculate the average predicated heat savings (when compared to a similar code-built house in the same region) for all our builds. The results are impressive, coming in at 86% - now that's something to shout about! To read more about heat energy savings, check out this new page we have developed to explain how it all works on our website, or view our projects to see just how much heat energy each of our builds are saving.
Are you looking to build? – you can't go past checking out what makes building with us so different from the rest. Contact us today to talk about building your home with eHaus.